Google has announced that the current version of Google Analytics, Universal Analytics (UA), will not process new data from July 1st 2023. Instead, professional services firms using Google Analytics (most firms!) will have to migrate to Google Analytics 4 with a different user interface, data model and website data gathering script.
This is quite a big shift…
This article walks through some of the issues around the migration: the timetable, benefits, disadvantages and how we are handling this for our professional services firms website analytics clients.
Does your firm need to migrate to GA4?
The short answer is yes, unless you intend to stop using Google Analytics – and we woudn't recommend that as it's the de facto website analytics platform and an unparalleled market research tool for prof services firms if you're using it properly.
That said, for most professional services firms GA4 is really mainly future proofing around identity of users and data privacy (read this to see how most law firms are handling privacy on their own websites). GA4 doesn't add hugely to what was already there in Universal Analytics. The biggest improvements in GA4 are aimed at companies with mobile apps or significant numbers of users logged in to their website from our perspective and it is not specifically targeted at professional services firms.
What are the key GA4 migration dates?
As the new GA4 and old Universal Analytics (UA) data formats are incompatible we are either implementing or contacting clients to ask them to implement GA4 now (mid 2022) on the basis that, from July 2023 you may want to compare year on year data (something we highly recommend when looking at fee earner, practice group or publication performance due to seasonality).
That said, given the prevalence of Google Analytics (estimated to be running on >30 million websites), and the experience with other widely used platforms like say Microsoft Windows, it is not unlikely that Google's timetable will be delayed (they've got to draw a line in the sand to get people to start to transition but that date may change). For example as of the time of writing Google is saying that reporting of historical data from Universal Analytics (as opposed to new data being added) will be available for "at least 6 months" after mid 2023.
There is also a range of features that are just not supported yet in GA4 such as more effective filters to stop certain kinds of data going in to GA, the ability to have separate Views so that you can have say a 'staff user View' and 'external user View', or the API for GA4 which is still in beta at the time of writing, which may delay switchover (we'll be updating this article with any future announcements and changes as a result).
What are the benefits of Google Analytics 4 versus Universal Analytics?
GA4 simplifies UA's previous structure of users, sessions, pageviews and events down to User properties and Events so that for example a pageview just becomes a kind of event. In Universal Analytics, events were not even used by many professional services firms even though they're the most important data type for tracking high value activities in professional services firms' websites such as website users actually contacting your fee earners.
Events are also made more flexible by allowing you to add properties aside from the traditional Categories, Actions and Labels. And other conversions you might care about (such as a social media share) can be recorded per event rather than per session in UA.
Broadly our view is that GA4 will require a bit more technical input than Universal Analytics but equally is more powerful.
Some GA4 features however are more automated that previously required more manual implementation in UA such as measuring page scrolls and tracking internal searches on websites assuming your website search parameter format is one of the common ones.
Other improvements that stood out to us included the ability to change the layout of the default GA interface, better GDPR-related future-proofing around IP addresses, the ability to group GA reports in Libraries, and stopping the insertion of referral spam.
What are the implementation challenges in migrating to GA4?
For firms that still have manual GA javascript includes in their web pages, Google is pushing you towards implementing Tag Manager, not least because at the moment you'll need Tag Manager to do certain things such as filter out internal users who have used say an admin part of your website (something we commonly do with WordPress-based client websites).
We'll be contacting clients to install Tag Manager who do not already have it and at the moment we are setting up 'dual tagging' so that data will be pushed into both UA and GA4 (that includes information about the names of companies visiting your individual fee earners, practice groups and publications if you have that option from us).
On the plus side if you already have Tag Manager because we or you have implemented it, GA4 is easier to set up.
In addition we change some of the defaults for clients as GA4 does not collect certain kinds of User information by default but must be manually configured to do so. For example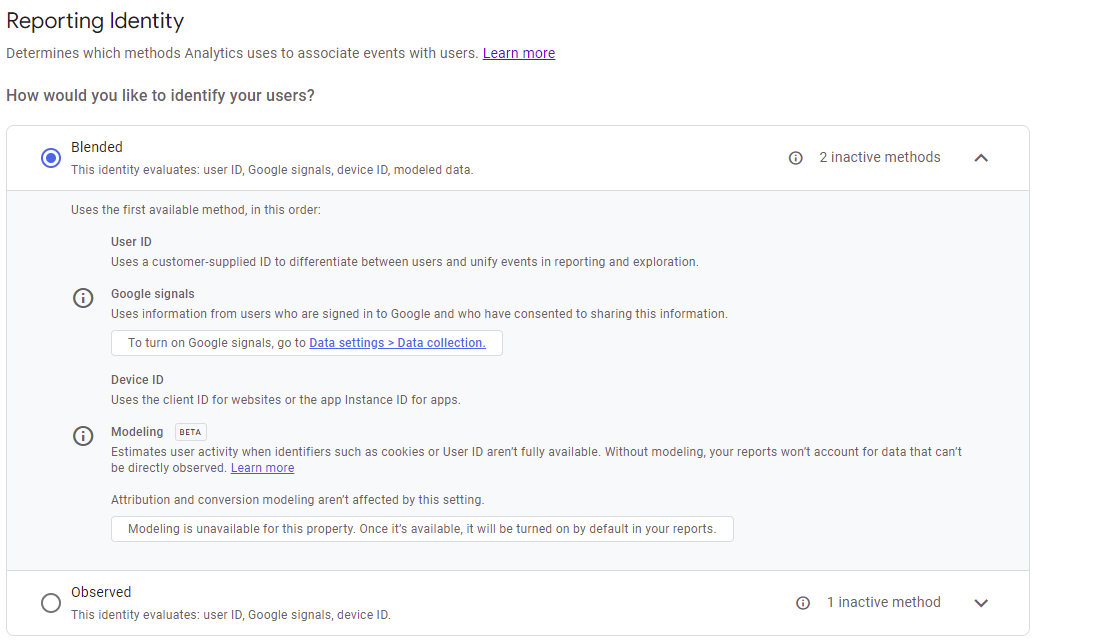 Doing this requires turning on data collection and we also change the data collection period from the 2 month default to 14 months (here's our recommended settings for Google Analytics 4 for professional services firms).
Migration of Magnifirm's GA+ and GA Enriched clients
For clients who have our analytics platforms built to support non-technical users in professional services firms, GA+ and GA Enriched, we have either migrated them or helped them migrate, and will continue to do that as Google ads back features to Google Analytics 4 which are currently missing.