The old John Wanamaker line "half the money I spend on marketing is wasted; the trouble is, I don't know which half" rang true for a century but if it's still true for your law firm or accountancy firm you're not using your website analytics effectively.
Every year tens of thousands of prospects and clients interact with your website's staff profiles, articles, practice group descriptions, office pages and other elements – and that's just for small firms. Larger firms in our benchmarking see 500,000 or more visitors a year.
And in contrast to 19th century posters or newspaper ads, your webserver is looking over your client's and prospects shoulders every time they do something. Not only do your analytics identify what pages were visited, but where the visitor came from, the sequence of pages, and whether the visitor is new or someone who has been to your site six times before (all three features in the basic version of Google Analytics installed on most professional services firm websites).
Think of your website as a volunteer market researcher who works for you 24 hours a day, every day of the year, with each page being a survey question.
What insights will a good analytics implementation give you?
A good analytics implementation is probably not what you're currently getting: most lawyers and accountants just get reports on highest volume pages, whether your total visitors numbers are up or down, and maybe how much traffic you're getting from search and other channels.
A good analytics implementation can give you both online and offline insights telling you:
specific fee-earners who may benefit from business development coaching or may be experiencing timesheet/billing issues
external websites which send you visitors that are more likely to do business with your firms (versus simply traffic volume)
that the website change just made to your article page design actually did improve things versus send you backwards
lawyer profile pages and practice group pages that most need editing
what practice areas look most promising from a strategic perspective
identifies the names of companies visiting you
what days and hours are most effective for your newsletter program or other communication
what external channels and content lead to social sharing
and many other insights besides.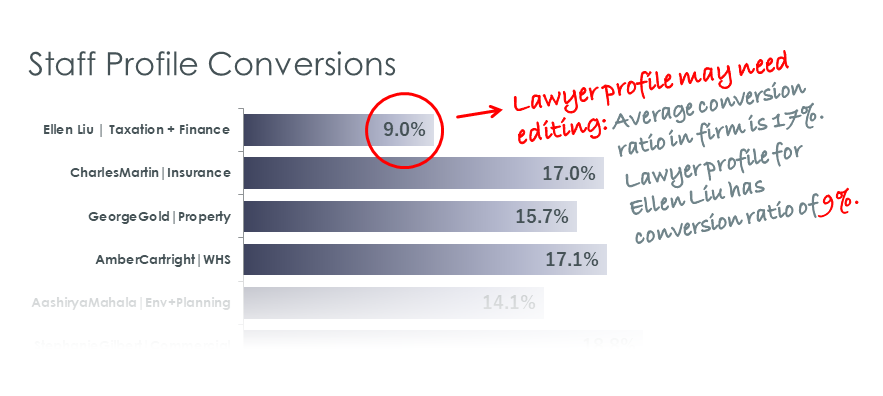 Better analytics implementations clearly identify high value  activities (HVAs)
Although getting the largest audience for your website (as a free public resource) is a good thing, it's more important that you get business outcomes which are of high value.
The first thing to know is that default Google Analytics is lowest common denominator, as it has to work for every possible website out there, both your professional services firm and the guy selling lampshades. Not only are those two websites very different but the insights available depend on the structure of your website as well.
To track high value activities your analytics package needs to be told explicitly what they are. The lampshade website has a shopping cart page as a high value activity but what is your professional services firm's equivalent of a shopping cart page?
In many (but not all) cases it will not be a 'page' at all, it will be an activity like a visitor emailing or telephoning one of your fee earners from their profile on your website (we recognise 30-40 different 'higher value activities' in our Google Analytics Enrichment process).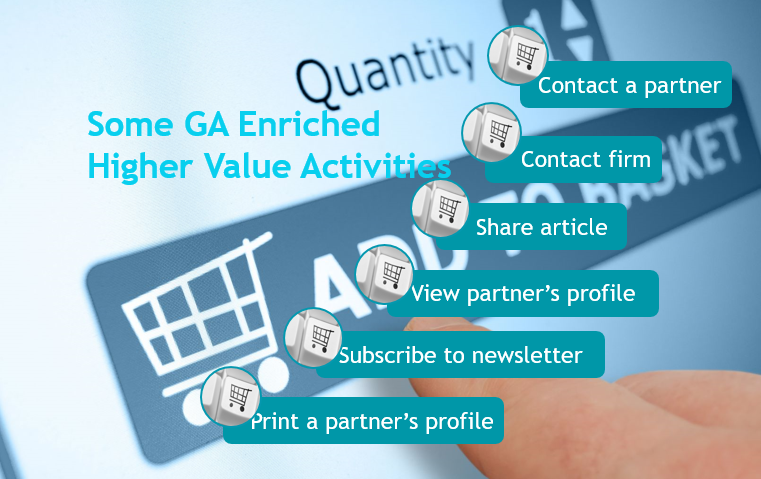 So the insights you'll get will depend on how your website is structured and usually involve some web page tweaks to enable you to track higher value activities better. For example it's actually possible to measure 100% of the contact made via the website with individual fee earners via emails or even phone calls with the right fee earner profile page design.
You've tweaked your website to track HVAs – how do you get Google Analytics (GA) to start recording them?
By default GA does not record high value activities like emails and phone calls and numerous other high value activities like social media shares.
You'll need custom Javascript to both track and hierarchically structure HVAs to make them easy to understand for reporting purposes. This will make visible 30-40 different high value activities happening on your site (where that information about your website is currently being permanently lost).
Once the tracking of these HVAs commences, depending on well structured your site is and the volume of traffic you get, you'll likely have to wait a few months before building up enough data to draw firm conclusions. For example if you follow our recommendations about fee earner profiles you'll record fee earner contact rates of 2-3% of your annual visitors, and high value activities might come in at 10% of your annual visitors overall.
Sheer traffic volume isn't everything though – a small firm can get good insights by better capturing the high value activities that occur – because sometimes  smaller firms face less internal hurdles when it comes to website tweaks.
Getting the best reporting from your web analytics
As you might expect, a generic Google Analytics report will not deliver you the kinds of insights detailed above out of the box.
If you want to identify for example, which specific publications deliver the most  business develpment activity for your firm (so you can write more of those or update them) you need to build a report that combines views of publications (and only publications) with specific high value activities (such as contacting staff) that occur in the same visit (and in the right order) and maybe only for say just new visitors, or non-clients).
To roll out this kind of reporting you need someone a good understanding of:
the underlying metrics that GA supports and the strengths and weaknesses of each one
your specific Google Analytics implementation
how to build layered segmented reports effectively in GA
which outcomes and issues are key for professional services firms
combining both a marketing perspective and IT skills (Javascript experience for example)
In addition to the above, for flexibility and richer graphical output you will need external reporting tools that use the Google Analytics API.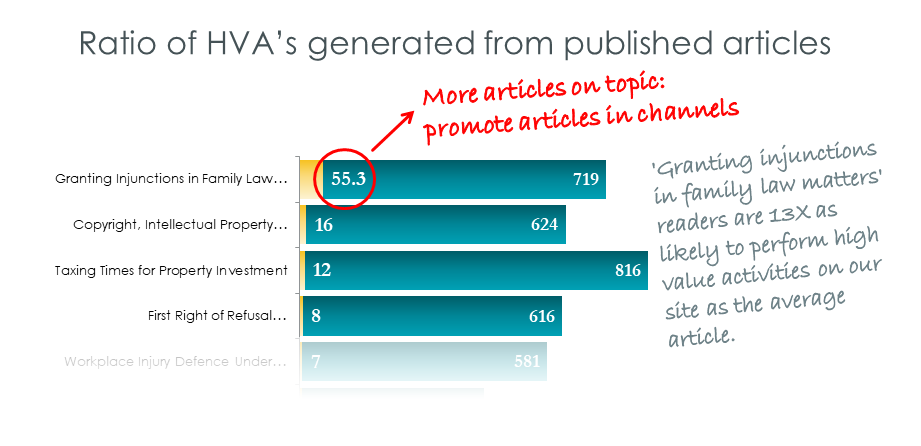 Looking at the above you can see why professional services firms don't get the insights from Google Analytics they should: they won't have the tools, skills and time available inhouse to do so (although specialised Google Analytics training for prof services firms is available).
Buy or build your GA implementation?
Do-it-yourself GA reporting implementations are therefore usually a struggle at both ends: resulting in only partial capture of HVAs, and then struggling to get the information out in a usable way (in the situations where we find high value activities are even being captured they aren't used in a practical sense in reporting).  And that's assuming your website is  optimally structured for good analytics (95% of law firm or accountant websites simply aren't).
Like installing a new accounting system – versus designing and implementing one yourself – it's usually better to outsource your analytics implementation to analytics specialists.
Be aware too that generic analytics agencies usually have little experience of professional services firms. Find someone (like us) who does, as the priorities for professional services firms and their websites are very different to those for e-commerce websites.