As a law or accountancy firm you need to know what clients and prospects think when you're looking to grow, specialise, or just when an industry's environment is changing.
Individual fee-earners talk to clients, but every month thousands are also interacting with your biggest marketing channel, your website. And as they do so you're actually in their office with them looking over their shoulder via your website's analytics.  Even in basic Google Analytics (for most professional services firms) you can see what they're reading in what order, where they came from, whether they're a repeat visitor and more.
Yet most firms get little usable information or insights from website analytics (overall visitor numbers, search traffic proportion, or a 'canned' agency report not built for professional services firms, or nothing at all) because they are not recording the high value activities that matter to professional services firms and they don't have the inhouse analytics skillsets.
High Value Activities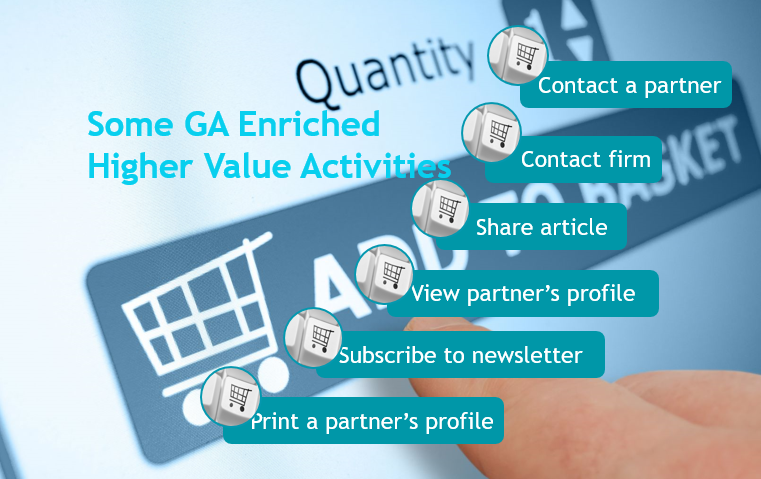 High value activities matter more.
While nice, high website visitor volumes mainly show you're providing a free service. In an e-commerce company your high value activities would be shopping cart purchases. But professional services firms are different to e-commerce websites because there's no shopping cart. Your higher value activities are ringing or emailing a partner or sharing an article for example.
Google Analytics, like Excel, is more of a toolkit and doesn't track most of these activities – the right implementation and data needs to be added to do it.
And then over thousands of visits you can see, for example, which articles or marketing campaigns most drive new business or even how prospects and clients interact with individual fee earners.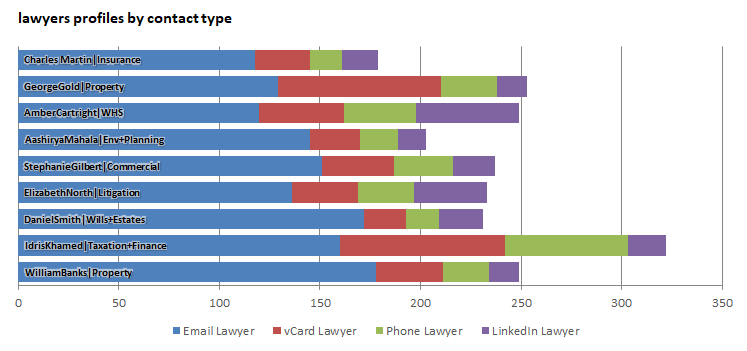 Based on on how your website is structured we'll also recommend small tweaks  to track additional high value activities.
For example to be able to see how people prefer to interact with different fee earners (and even compare to internal billing data) you can have a simple structure such as the one below, showing the fee earner's name and their specialism and position but not their phone number.
A plus button can be used to click to see their contact details:

We customize GA, including adding code, to be able to track the high value activities and even identify key classes of users like clients and jobseekers so that you can see how clients specifically relate to your website.
Addressing the skillset issue
Google Analytics has some limitations, such as identifying the impacts of your internal email campaigns or social media efforts properly. Our Google Analytics training (using your own GA data and structured specifically for marketing teams in professional services firms) shows you how to fix these issues so that you can clearly see the relationship between your efforts and results. 
On the reporting side GA is a warren of literally thousands of data point combinations  – hard to see the wood for the trees.  If you don't want to build custom reports yourself (or take our advanced GA course) we build them for you and select metrics that are both meaningful and relevant to professional service firms – working with hundreds of firm's GA data sets we know the type of data you are likely to want to see.
For example, knowing where high value activity is coming from can show what money spent on 3rd party websites is effective and assist you to allocate marketing spend accordingly.
And high value activity can also be traced back to:
names of companies visiting your website

individual articles your fee earners spend hours writing

your social media efforts

what days and hours you get the best response to digital activities

which individual fee earner's profiles most need a rewrite or might deliver the biggest return from business development coaching
and much more – both online and offline insights.
Investment in marketing salaries, staff development, hosting, new content, website revamps, and even strategic growth opportunities all benefit from the insights that GA Enriched delivers in providing accounting for your digital visitors.
You've spent years building traffic to your web presence – now take the next step to use your website to understand your market better.