As a professional services firm you need to know what your clients and prospects think when you're looking to grow, specialise or even just when the industry environment is changing.
So you talk to clients about their priorities, as well as running more formal market research programs which can cost from $5k to $50k depending on the size of the study.
Yet for a fraction of the cost of a formal market research interview process you can year-in and year-out get feedback from thousands of clients and prospects by looking over the shoulder of people using your biggest marketing channel, your own website.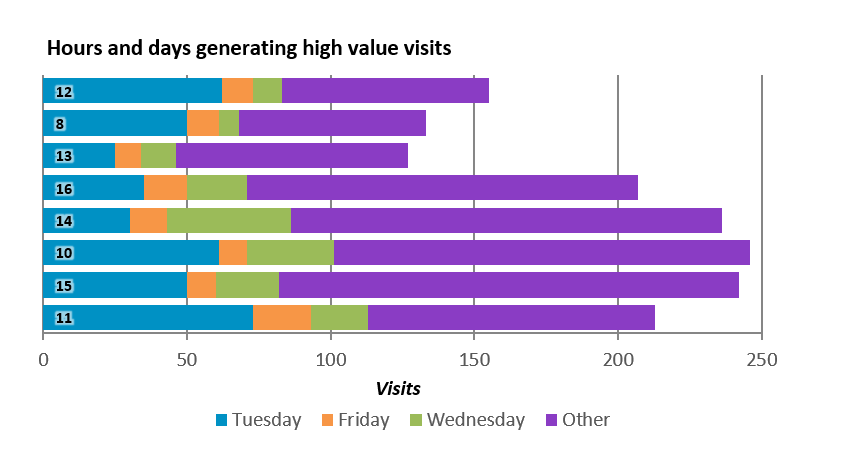 In small firms our benchmarking shows 20,000 individuals visiting professional services firm's websites a year, and large firms see 500,000 or more individuals.
What could your firm learn about your clients and prospects from that many people?
Every quarter (or monthly if you prefer) we provide over 300 different custom website reports to firms from Australia, New Zealand, China, the United States, Canada, the UK and many other countries –  from the largest global firms in the world to small local boutique firms.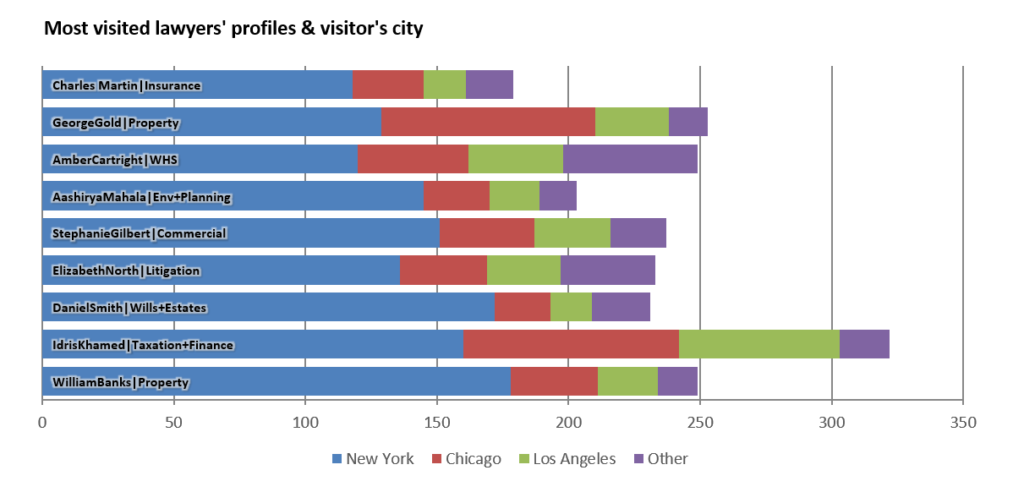 If you're like most firms you have Google Analytics yet only get top level metrics (numbers of visitors, most popular pages, or proportion of traffic from search), something 'canned' from an agency not even built for a professional services firm, or sometimes no reporting at all.
Magnifirm's GA+  service turns Google Analytics into insights you can really use. And what's more we'll build your custom reports for the next quarter as a free trial – if you don't find them useful keep them and pay nothing.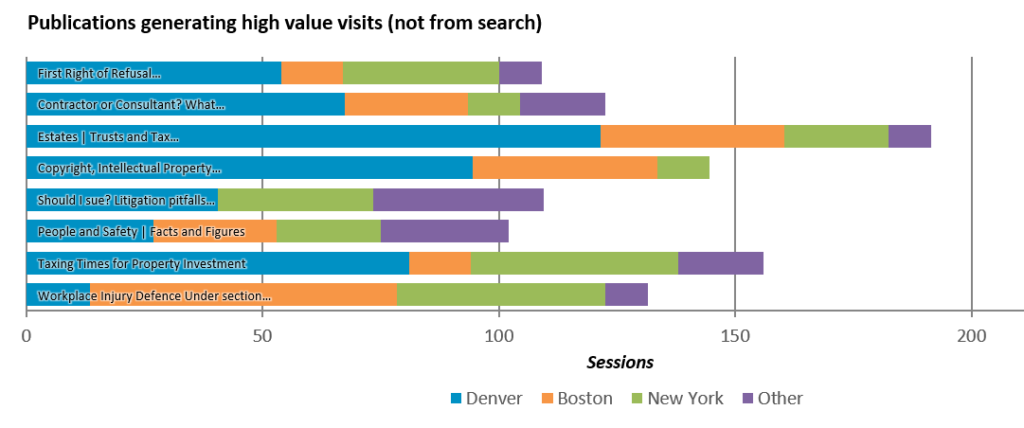 | | |
| --- | --- |
| Standard GA | GA+ |
| Undifferentiated jumble of pages thrown together | Reporting structured to reflect the important parts of your own website such as practice area pages, lawyer bio pages, performance of publications, third party websites sending you visitors, and social media. |
| One size fits all reporting | Fully customized reporting – we build the reports specifically for your firm's website and if you ask for changes we'll do them – anything from a general directive to a very specific request |
| Garbage in your data | We'll keep your data clean, eliminating problems like referral spam, bots, problematic page markup such as duplicate titles, selecting appropriate geographic filters, and even configuring to exclude your own staff |
| Confusing array of generic metrics like sessions, pageviews, bounce rates, user types, and unique pageviews | We know the strengths and weaknesses of each metric and will give you appropriate measurements for each report and type and don't drown you in jargon and numbers. |
| No explanations | Our reports come with clear explanations of exactly what you're looking at, what to do, and why we've reported using those metrics |
| Laborious data extraction process: log in to GA, navigate around, filter – all for one type of data | Save time as we completely break down the 25 things that are need-to-know for a professional services firm and receive them automatically in your inbox at the beginning of every quarter |
| Rows of numbers | Our reports are graphically rich so you can understand at a glance (and wow internal committees) but they also give you simple period-on-period percentage changes ("Publications visitors are up 22.4%"). |
| No monitoring | We configure a range of monitors to inform you about important things happening as they happen. Has your search traffic jumped or collapsed or have you seen a large social media spike? We'll proactively let you know about the big changes when they happen – rather than too late. |
| No support and training | Have questions? We'll answer them. Or if you want to take the next step with GA, take our basic or advanced GA training course delivered specifically for your firm and working with your own GA data (delivered inhouse or remotely via GoToMeeting) |
| Get an understanding of valuable visits and not just volumes | Professional services firms don't have shopping carts or other traditional methods used to track high value activity on websites.  As part of your GA+ reporting you'll also get 'high value activity' analysis – a focus on web audiences and where they came from where they did something more important to you like contacted your firm or visited a lawyer profile. Then take the next step to GA Enriched. |